 Power your business with intuitive and intelligent conversations. Unify messaging channels and personalize self-service on your website, in-app, and across digital messaging channels
Discover More
Contact us for a free demo
Grow customer love with smarter conversations
With high response rates and high CSAT, messaging is better than email or phone. Use our chat solution to connect with any messaging app and manage conversations from one inbox.
Get answers instantly
Live chat reduces the overall first response time to under 3 minutes for most businesses across all industries. Live chat is faster because it's always-on yet asynchronous.
Have continuous conversations
Live chat preserves past chat history and context in threads that are accessible to agents and customers as soon as they get on a chat.
Give context to customers
You can share rich media files like images, videos, or GIFs with live chat. And although you can do similar things over email, it's more contextual over live chat.
Personalize every conversation
Just like instant messaging apps, live chat conversations are friendlier in nature. It breaks down the wall between businesses and customers.
No-code, Easy to set-up-up
Setting up live chat for your website is as easy as a using a plug-and-play software that doesn't require heavy IT work.
Cohesive customer experience
Live chat offers a singular experience to customers across their acquisition, onboarding, and support journey.
Intelligent conversations, anywhere
Unify messaging channels and personalize self-service on your website, in-app, and across digital messaging channels (WhatsApp, SMS and more!)
Simplify customer experience with no-code, easy-to-build chatbots
Bring insights to action with native-AI to power next-generation messaging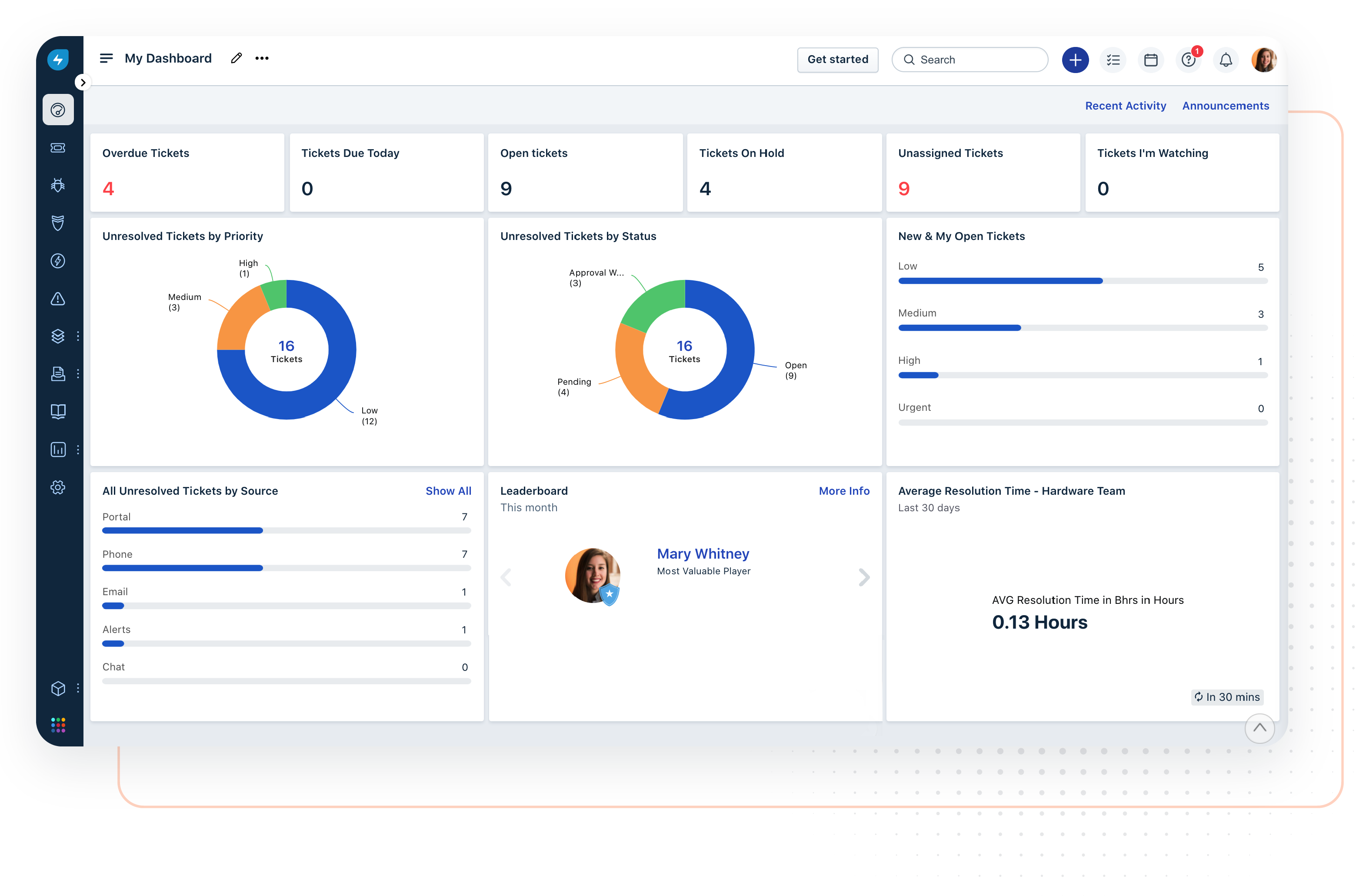 Connect

with

customers

where

they

are
Messaging apps have grown rapidly in the last few months. Tap into its reach and adoption for your customer service engine.
WhatsApp for Business
Respond and manage WhatsApp chats from your chat inbox
Apple Messages for Business
Engage with customers via Messages from their iOS device
Google Business Messages
Bring all your conversations from Google's Business Messages into our chat.
Facebook Messager
Receive and respond to FB DMs from within your chat Inbox
Bring Your Own Channel
Choose your own channel and integrate it with our chat solution easily
Instagram
Send and receive DMs from multiple Instagram Business accounts
Telegram
Engage with customers on Telegram using a Marketplace app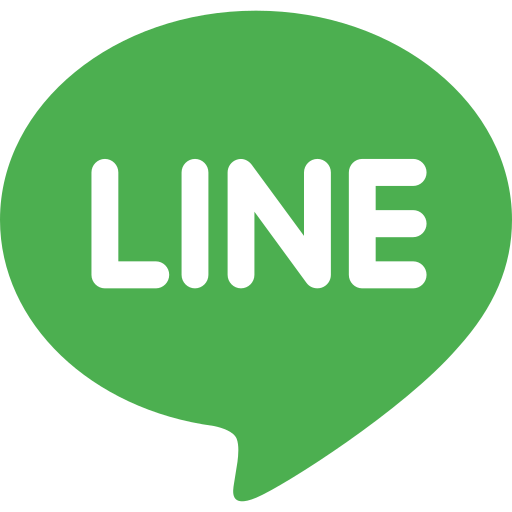 Line
Receive and respond to LINE messages with our chat solution
Web and Mobile
Use the customer messenger on your website and mobile apps
SMS
Provide conversational support through SMS on our chat solution
Experience our solution in action
Try out all features for FREE. Get started, now! request for a free demo
Schedule a demo
Unified

and

contextual

conversational

engagement
Make it easy for sales, marketing, and support teams to have proactive and meaningful conversations
A fool-proof information collection mechanism
A live chat widget should be non-intrusive on the website, all the while being there to welcome visitors when they need help or support. Live chat software should be able to do so by capturing information and automating it to your support team to act on requests and queries.A modern live chat tool does all this by launching triggered messages based on user and event properties, deploying interactive chatbots at the right time, and sending in-app contextual campaigns.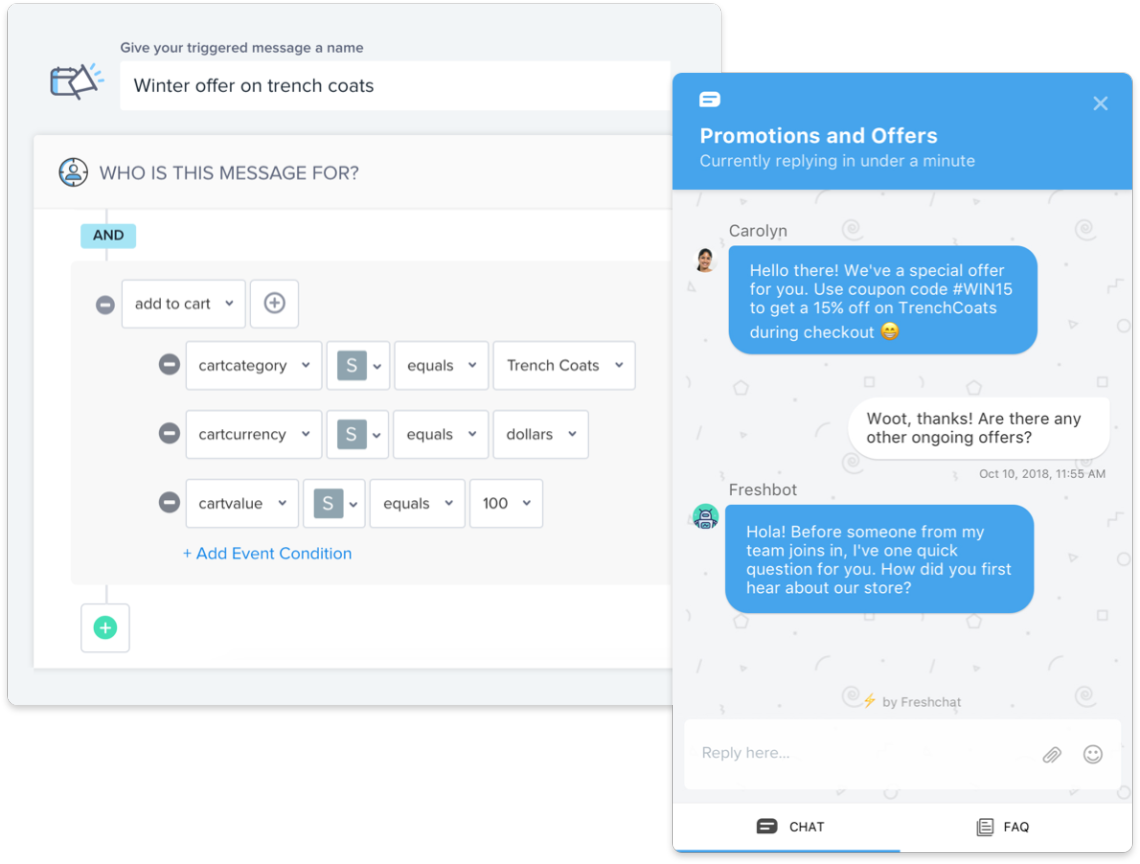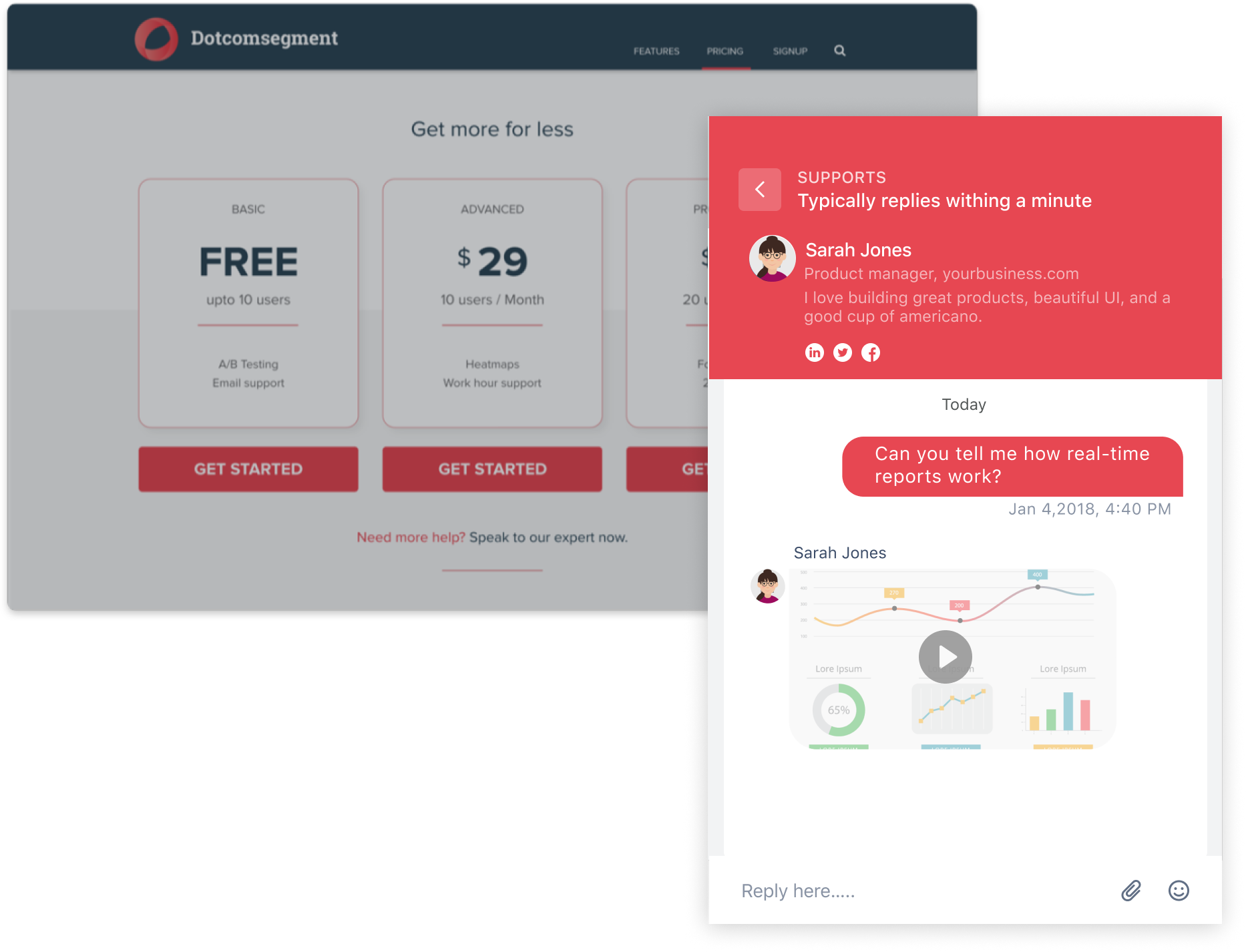 A convenient, familiar experience
Give your website visitors the experience of modern messaging they are used to, with a personal, customizable, and user-friendly messenger.With continuous chat history, break free from time-bound sessions. Conversations can be picked from where they left.Converse with images, rich text with linking, and emojis, choosing the medium that best conveys the message.Team members can add a happy face, their job title, a short bio, and their social handles behind their name to make the conversation feel human.
A fulfilling self-service experience
Our chat solution offers AI-powered chatbots that understand intent and can offer precise answers while keeping the conversation engaging. The bot pre-learns from existing resources and ongoing conversations to give better answers during every interaction. For businesses, chatbots are a tool to go beyond customer service. Today, they are popular for marketing and sales as well. The chatbots can constantly work to give additional information to the website visitor to help them go through with a sale.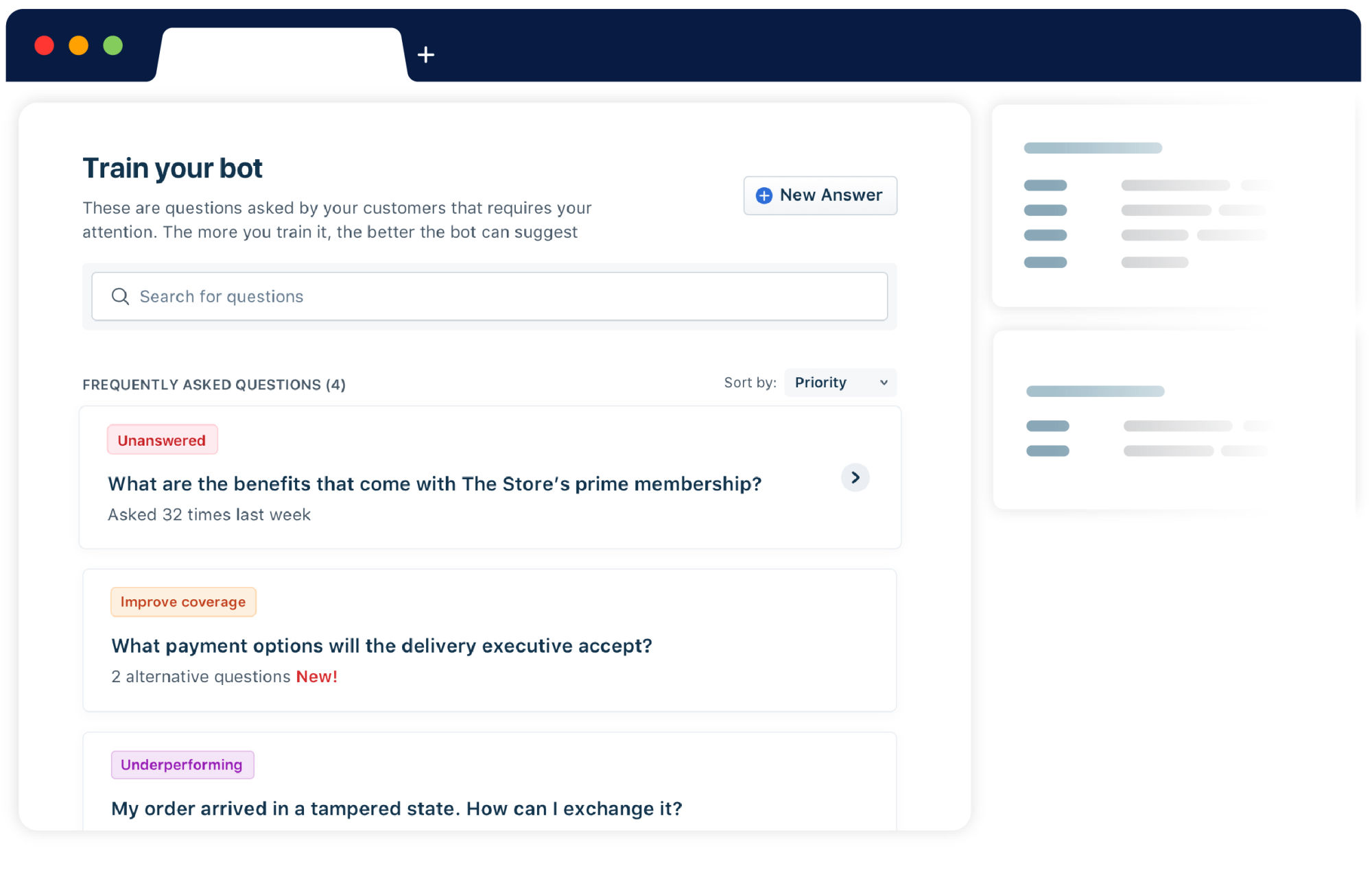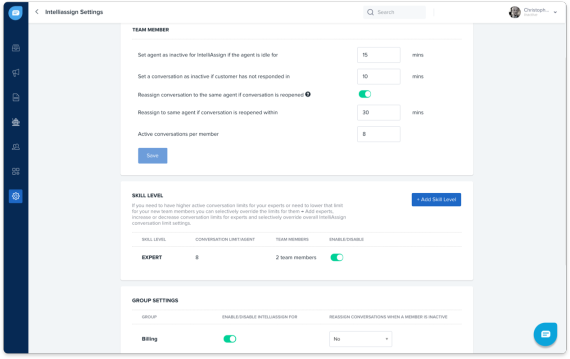 Unbridled team collaboration
Our live chat tool takes team collaboration to the next level by offering IntelliAssign, a rule-based, automated task routing feature that allows you to load balance chat conversations among agents or teams based on their workload or expertise. This allows teams to perform at their optimum level while making sure that customers get the best experience they deserve when engaging with your brand.
A live chat software is essentially a business-enabling tool that should be able to produce measurable metrics for improvement and optimization. It should provide useful data points for decision-makers to analyze and identify the best practices and anomalies in their live chat operations. Keep track of the customer experience you are delivering, with updated metrics on your first response time, average response time, and resolution times. Know if conversations are waiting to be assigned to team members, or if your teams are overloaded, and unable to respond in time. Measure team member performance by going through conversation summaries and activities.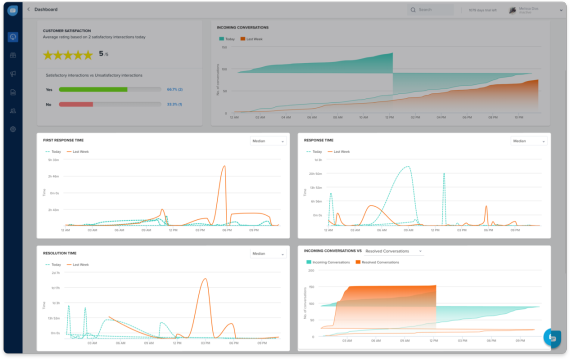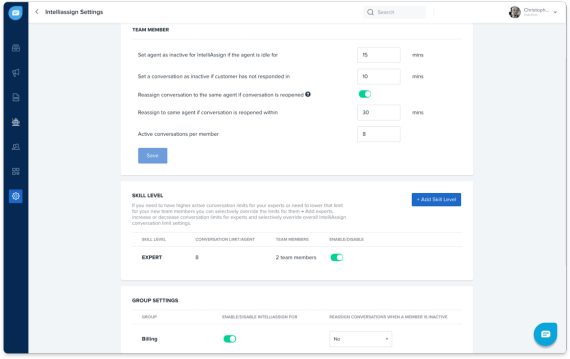 Our live chat tool fit into your all-star business toolkit and connect with all software that is pivotal to your daily operations. It integrate with your existing CRM software to manage customers and nurture them, your helpdesk software to offer great customer support, and other business-critical apps. See our software in action.
Schedule a free demo today