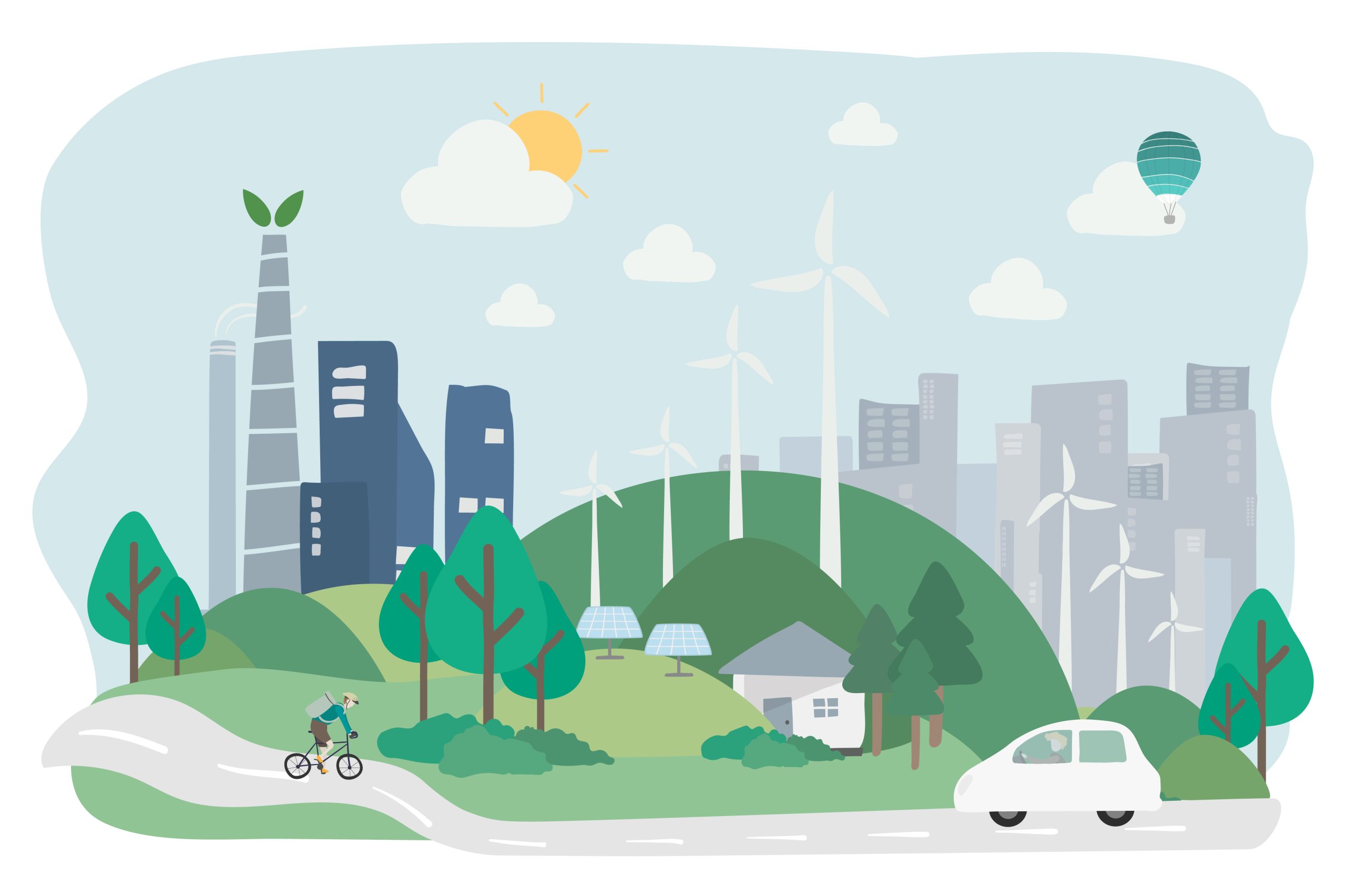 Digital Sustainability Solutions (ESG)
Streamline your end-to-end sustainability journey through an integrated platform for managing, reporting, and analyzing environmental, social, and governance data.
Discover More
Contact us for a free demo
The easiest way to manage all your ESG requirements
Make your company's sustainability performance more efficient with a SaaS tool that facilitates automated reporting, management, and deep analytics with ESG information.
Data Management
Create value by tracking, analyzing, and consolidating your ESG data with a centralized data collection and management system.
ESG Reporting
Automated data fetching allows you to generate ESG reports aligned with international sustainability frameworks, such as GRI, TCFD, CDP and others.
Analytics and Insights
Make more informed decisions by analyzing ESG factors, benchmarking performance, and ensuring effective communication with internal and external stakeholders.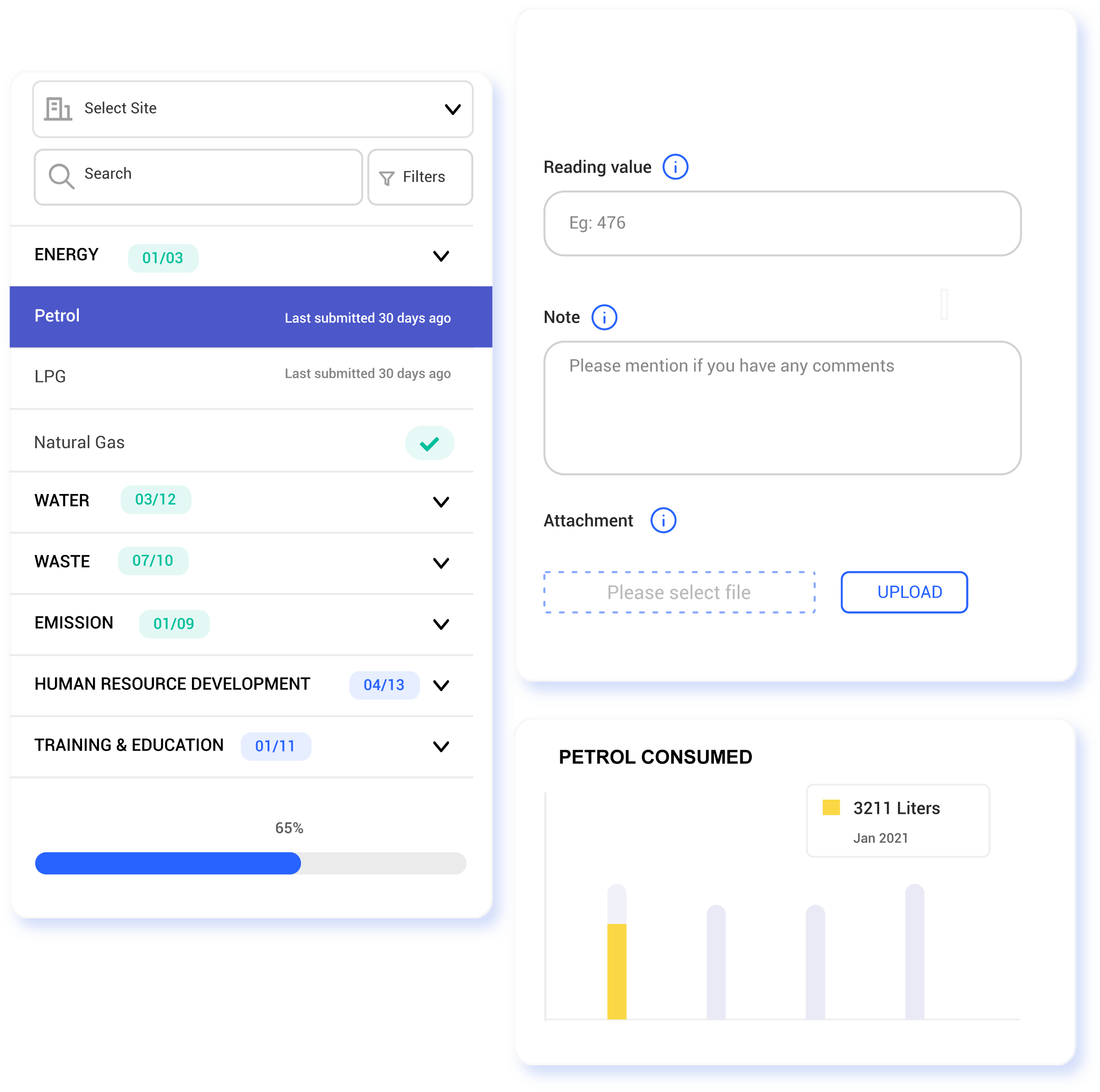 Data Management
Track and collect ESG data effortlessly
Using a centralized data management and collection system, you can analyze and consolidate your ESG data to make better decisions.
Using our interactive user interface, users can input data manually or import it through Excel sheets, CSV files, and API integrations.
ESG metrics can be configured and calculated using our database, which is fully integrated with the latest standards, methodologies, and conversion factors. To ensure accurate GHG accounting, our database is updated with the most recent DEFRA Emission Factors and IPCC Global Warming Potentials (GWPs).
Data can be viewed and analyzed using dedicated dashboards for each ESG metric. Your organization can gain meaningful insights, predict trends, and get an overview of ESG performance.
Integrate multiple levels of data validation and create audit trails to review operational workflows.
Easily calculate GHG scope 1, 2, and 3 emissions with location-based emission factors and fuel calorific values.
Request for a demo
Reporting
Ensure maximum transparency with ESG reporting
Generate ESG reports aligned with internationally recognized sustainability frameworks such as GRI, BRSR, TCFD, CDP and others using the automated data fetch feature.
ESG reports on the supply chain can be generated based on a specific location and ESG indicator, and provide your company's stakeholders with more up-to-date and accurate ESG information.
Get a detailed, intuitive suite of ESG analyses custom-made for your industry, including the UN SDGs, Gap Analysis, and ESG Mapping. Using the self-assessment feature, generate a Transparency Score against global ESG standards to see where you stand in terms of ESG performance.
Report comparable and credible metrics and disclosures using an efficient reporting system with globally adopted up-to-date sustainability standards such as GRI, TCFD, CDP, etc.
Request for a demo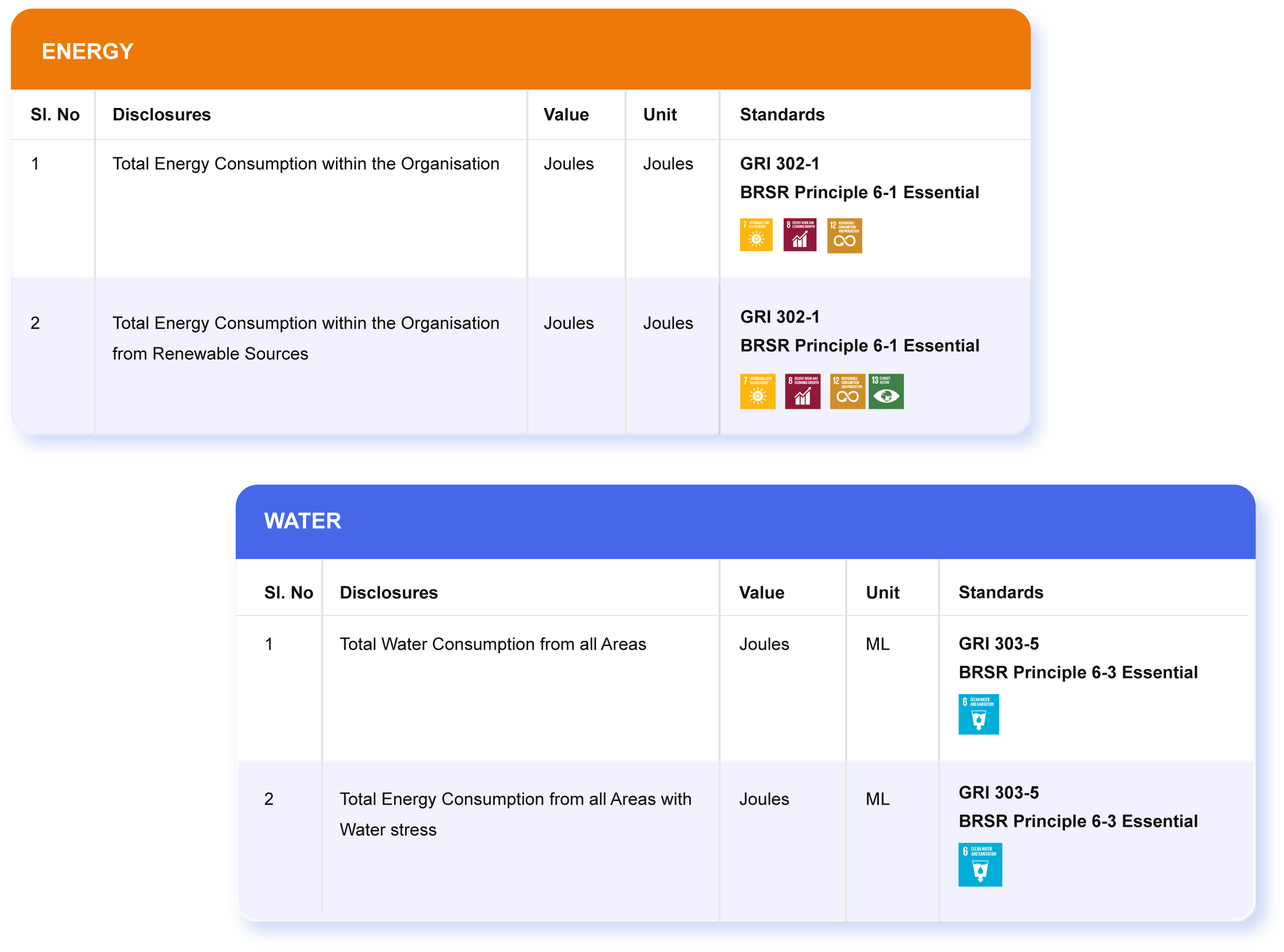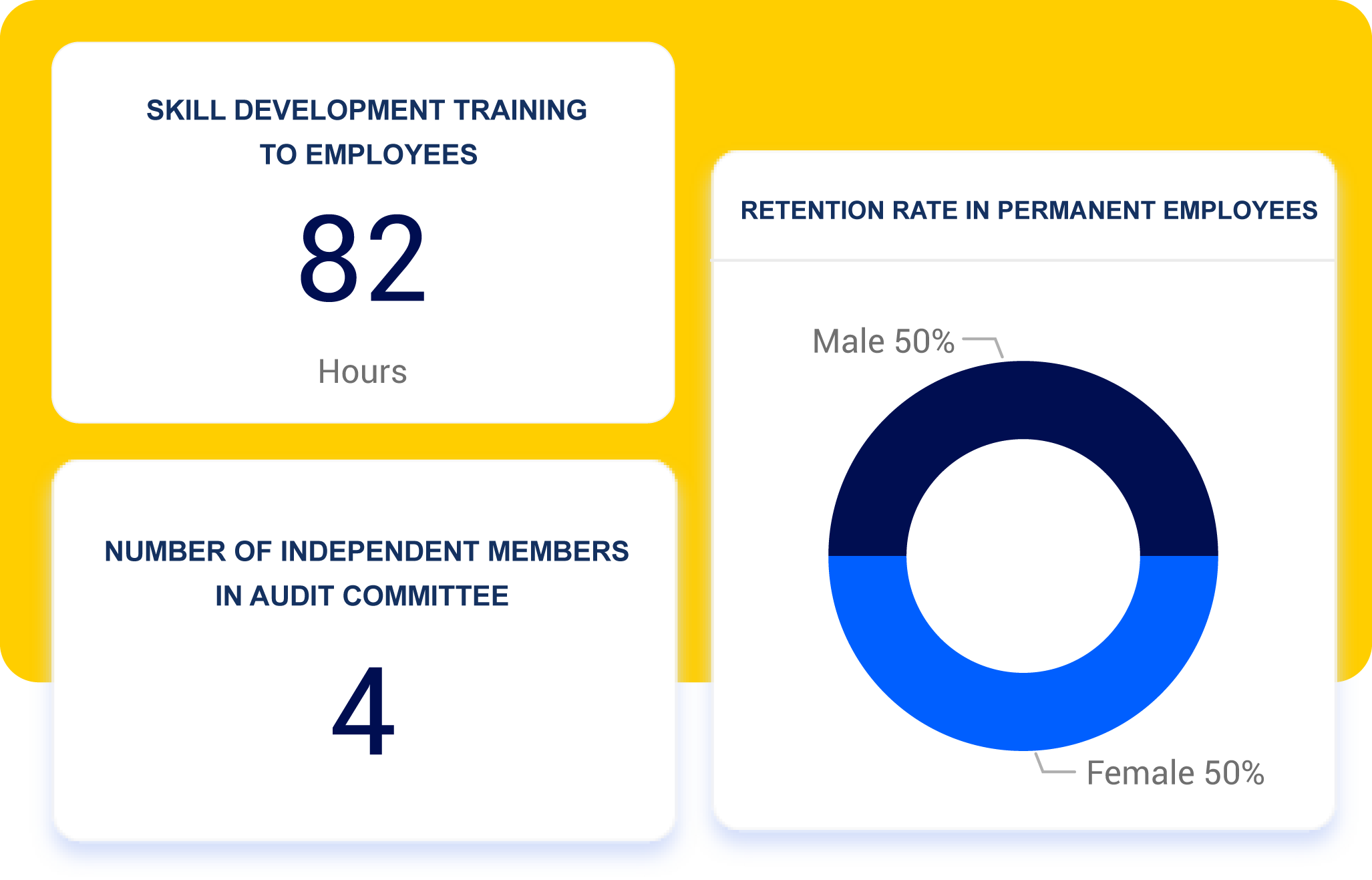 Analytics
Obtain valuable insights through analytics
Integrate ESG analysis into strategic decisions, benchmark performance, and communicate more effectively with internal and external stakeholders.
Analyze leading data-based indicators, using dashboards with graphs, KPIs, and comprehensive filters.
With our Climate Change Dashboard, you can forecast your GHG emissions based on past trends, set targets and track progress towards the 1.5-degree target.
Get in-depth insights into your organization's materiality assessment by obtaining feedback from various stakeholders.
By combining our powerful analytics with Strategy, Target, Performance & Result, you can compare your ESG performance to peers across a number of metrics and industry parameters.
Request for a demo
Ready to make a positive impact on the environment and society?
Schedule a free demo today